Becoming a woman in many Hispanic cultures begins at 15 and is often celebrated with a Quinceanera - part birthday party, part rite of passage.
Drive through downtown Albertville and you will see storefront windows filled with the lavish gowns, richly decorated with sequins and sparkles traditionally worn during the celebrations. Also inside the stores are traditional floral bouquets, tiaras and gifts lavished on the young woman.
Boaz resident Alex Esquivel turned 15 in January and her family threw her party on Aug. 6, complete with traditional dances, food, a mariachi band and a DJ.
"Since I was a little girl, I have dreamed of my quince," Alex said. "It really was a dream come true for me."
What is a quinceanera?
Quinceaneras are daylong celebrations that can be as elaborate or as simple as the family chooses. 
Although the quince observance originally signified the girl was prepared for marriage, the modern celebration is more likely to signal the beginning of formal dating.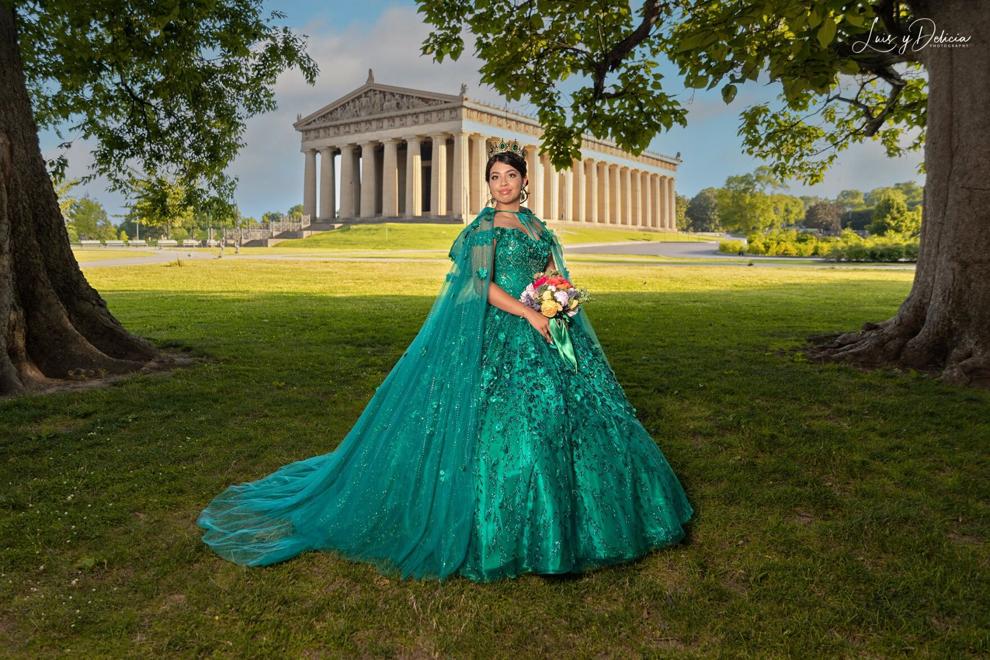 Typically, each young lady wears a prom-like, formal ball gown. In early quince celebrations, girls would wear either white or pink dresses, but they weren't formal gowns.
As Latin American families began immigrating to the United States, they started holding big parties. Suddenly the big quince party wasn't just reserved for the wealthiest of society. 
Each young woman has a court comprised of 15 chambelans, or male attendants, and 14 damas, or maiden attendants symbolizing the past 14 years of her life. The court is made up of close friends and relatives.
The male attendants are generally outfitted in matching attire, ranging from jeans and button-own shirts to tuxedoes, while the females are outfitted in matching or coordinating dresses.
The quinceanera tradition dictates the girl starts her day of celebrations at the church where she will receive a special blessing from the priest and commits herself to protecting her sexual virginity and spiritual devotion. 
In Alex's case, she and her family celebrated a full Mass at the Chapel of the Holy Cross Catholic Church in Albertville. 
She carried a fresh floral bouquet she left at the church under the statue of the Virgin Mary to symbolize her purity. 
After Mass, the family and friends gathered at Majestic Venue in Albertville for a reception, meal and party.
During the party, the quince girl and her court perform choreographed dances – Alex's celebration included one traditional Mexican folk dance complete with traditional costumes, and one studio dance with modern dance or club wear.
DJ EXQUISITE came from Nashville to provide music and entertainment to the guests.
Each table was festooned with decorations crafted by Alex's mother. Instead of having a single, large cake with multiple tiers for the celebration, the family opted to provide smaller, individual cakes for each table complete with a cactus or succulent theme decoration.
"We planned this celebration for a year," said Alex's father, Vicente. 
Planning
Keily Esquivel helped Alex choreograph two dances for the party. One dance stuck close to Alex's theme of Mexican folklore, complete with traditional, colorful dresses. The other was a more modern studio dance with young ladies decked out in sparkling skirts and crop tops.
"We worked on the dances for about four months," Keily said. "The best part of the whole day is the dances. It is tradition."
Alex's day was made better with the help of her extended family. 
Her cousin Yvonne did her makeup for the big day. 
Another cousin, Lizeth, Keily and Alex's sister, Danya, worked on the dances – including a special dance with Danya and Alex together.
Alex's many godparents provided items and services throughout the day, by providing the cake and other essentials, Alex said. 
"Your godparents will support you through it all," she said. "They will be with you all your life. On this day, they can provide things like the cake or other things."
Traditional gifts
Quinceaneras are rich in history and tradition. Each celebration is unique to the young woman, her family and beliefs. 
Each quinceanera calls for a variety of essential and traditional accessories. They include:
• a tiara to symbolize her being a princess before God. 
• a scepter to symbolize her taking on adult roles as well as the authority that goes with her new position in the family and society.
• Bible or prayer book as a resource to keep the word of God in her life.
• Rosary beads.
• bouquet used during a Catholic Mass to place at the Altar of the Virgin Maria as a gift of thanksgiving.
• Quinceanera doll used to hold ribbons with the woman's name and date of her birth printed on them.
• pillows are given for kneeling during the service, to carry her new shoes and one for the tiara she receives.
The young woman also chooses an elaborate and highly decorated gown for the day. Alex ultimately chose a dress in a deep, vibrant green shade.
"I thought I wanted a red dress at first," Alex said. "But the green one was the second one I tried on."
The dress was worn with matching tiara, necklace, ring and bracelet, all given as gifts to her by her family. 
Gowns can cost hundreds or thousands of dollars, depending on how elaborate they are, the length of the train, and if it comes with accessories such as a matching cape. 
Dresses are ordered months in advance. 
"They are usually corset backed to make fitting easier," Alex said. "But you still have to find one you like and get it ordered. It takes time to prepare."